Less hand fatigue.
It starts with a comfortably slim neck profile, which is designed to be inviting and approachable for many different playing styles. Our patented neck joint also allows the string height above the frets (a.k.a. the "action") to be set low, which makes it easier to fret the strings and form chords.
Micro-adjustability.
At some point, a guitar will need a neck angle adjustment. Our neck joint was designed with serviceability in mind. With our glue-free assembly and precision spacers, that angle can be adjusted in minutes by a certified guitar technician, ensuring a lifetime of great playability and sound.
Learn More About the Taylor Neck
Take a deeper dive into our innovative neck design and the ways it will enhance your playing experience.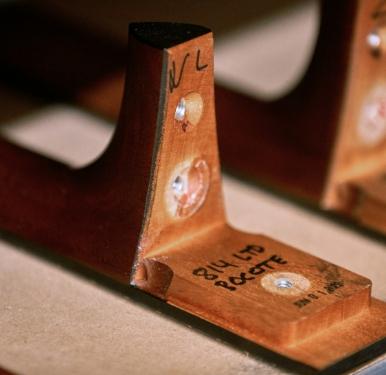 Anatomy of the Taylor Neck
From our patented neck joint to our laser-cut neck angle spacers, take a closer look at the way our neck is joined to the guitar body.