Mike Corrado fell in love with making music as a teenager. He started out on drums and percussion and played any chance he could. When it came time to choose a college, Mike had to decide between two schools: East Carolina University, where his high school music teacher had gone, or The Citadel, a military college in Charleston, South Carolina. "East Carolina was known as a party school, and I was thinking that if I went there I might never finish," Mike says. "So I decided to buckle down and chose The Citadel."
Despite the academic rigors of the program, Mike also kept his love for music alive. "I wound up getting together with a group of guys and playing out in the bars in Charleston," he says. Because living in the barracks was not conducive to drumming, he switched to guitar and began to write songs. "I would go out and watch singer-songwriters play," he says. "The power of the music and getting a message across really struck me."
After graduation Mike went to officer candidate school and eventually into active duty. He moved to North Carolina, where he served as an infantry platoon commander. He also started playing regularly in a local bar and continued to hone his performance and songwriting chops.
Prior to an upcoming deployment, Mike flew from North Carolina to Anaheim, California where he recorded his first six-song EP. At the time it was released, he was deployed aboard a Navy ship to South America and Africa. At one point the ship stopped in Africa, where Mike had a special experience. "I brought my guitar into this jazz club," he recalls. "There were players from all over who didn't speak English. I was well out of my league at this point. But I knew this one song, and I called out the key and threw them some hand signals. We all played it. That's when I realized how universal and far-reaching the language of music is. It was a powerful moment for me."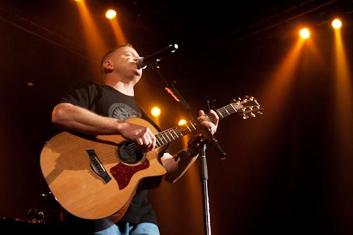 From Music Tour to Tour of Duty
When Mike left active military duty he decided to pursue music full time. He began touring locally, then regionally and nationally. "I had a band in a 15-passenger van, and we played over 250 shows a year," he says. "Things were going really well. We got a management company, and they were getting us in front of some really good national acts. We did a show with Edie Brickell and with John Mayer right as he was breaking. We did some shows with Edwin McCain, and some with Derek Trucks." Mike had recorded a full-length CD that was set to release on September 12, 2001. When the unthinkable happened on 9/11, Mike's career path took another unexpected turn.
He was called back to active duty and began training troops in North Carolina. "It was a busy time, but I still found time do some writing and recording," Mike remembers. "That's when I wrote a song called 'On My Watch Tonight.' This was the first song I wrote that really struck a chord with people. I had seen an email from a young Marine in Afghanistan who sent a letter back to his dad saying, 'Hey, we're over here. We got this, you all back home focus on the family and rebuilding things. We're over here standing watch.' Having led young Marines, their passion, drive, and commitment to duty and service really struck me. So, 'On My Watch Tonight' is a song about the journey from boot camp to the front lines and why they do the things that they do." 
Mike was deployed to Fallujah, Iraq, from 2005 to 2006. Before he left, his song had gotten to a local DJ in the eastern North Carolina area, a region with many major military bases. The topic and emotion of the song rang true. "On My Watch Tonight" perfectly captured the pride Mike and thousands of others felt in ensuring the safety of his family and his country. It became a local hit.
In Iraq Mike had to deal with the heat, intensity and threat of violence on a daily basis. Surrounded by the trauma of battle, Mike turned to music to help get through each day. "Music is good medicine," he says. "When I could, I used to get together with a group of guys at Camp Fallujah on Friday nights. I still keep in touch with some of those guys to this day because we're bonded by where we were and by music."
Songs of Service and Sacrifice
Mike continued to write music with a keen awareness of the struggles and challenges that servicemen faced both abroad and when they returned home. The title track from his next EP, Stand, garnered even more attention, and the video for the song made the rotation on CMT. Featuring Edwin McCain on backing vocals, "Stand" gave listeners an inside look into the sacrifices of service members, veterans and their families.
The EP also included a song called "Lucky One." "I wrote it about those who are struggling with PTSD [Post Traumatic Stress Disorder] and TBI [Traumatic Brain Injury] and survivor guilt," Mike reveals. "It's a song about an individual who was in a vehicle that was blown up by an IED. He was the only one from the vehicle who survived. People would come up to him and go, 'Wow, you're the lucky one,' when in reality, he struggled with the thought, 'Why did all my buddies not make it and I did?' This situation doesn't get a lot of attention, but it needs to. That guy needs help and support just as much as the families of the fallen." The song rang true for many returning servicemen and women, so much so that the Veteran's Administration decided to use it in public service announcement for the VA suicide hotline.  
Two-way Inspiration
Mike continues to serve in the Marines by working at their Wounded Warrior Regiment in Quantico, VA just outside of Washington, D.C. There, his goal is to help assist wounded, ill and injured Marines heal in order to return to duty or successfully transition back into their civilian communities. "When I was offered the opportunity to work there I jumped on it.  I wanted to be able to help those who sacrificed so much " he says. "I wrote the song 'Still in the Fight' to help tell the story of wounded warriors and their struggles in their new fight for recovery. To be surrounded by that inspiration, and the drive and the grace with which these men and women go through their physical therapy and occupational therapy, is pretty amazing." Proceeds from Mike's music are donated to help fund programs for wounded veterans. 
Mike's music continues to be an inspiration for those who have suffered loss and pain. It also expresses the pride of the families and friends of those who serve. "The reactions have been quite humbling," Mike says. "When I get a phone call, an email or a letter from a family who used one of my songs in the memorial for their son, there are no words to describe it. And for Welcome Home parties, or events when troops come back and they're playing my song. Wow. To hear it from the perspective of someone who's worn those boots, I think it resonates true with people." 
If you'd like to know more, please visit Mike's website.