As a kid, Marty Dodson loved the way songs could take him to places he'd never been.
"My family didn't have much money — I think we went on one vacation when I was growing up — so I had never seen much of the world," he says. "A cousin of mine had introduced me to the Eagles and John Denver, so I would listen to those albums in my room and imagine Colorado and all the places they were singing about."
Dodson got his first guitar when he was 11 and immediately started penning tunes of his own. "I discovered that sitting and playing on the fourth step of the stairs going down to our basement would echo and sound cool, so I would sit there and write songs about the girl down the street or somebody from school," he remembers.
Despite growing up in the country music capital of Nashville, Dodson says his early exposure to people pursuing a career in music didn't paint a promising picture. "My earliest impressions were that the person coming to work on our air conditioner or every waitress was trying to be a songwriter or a singer," he explains. "So my only exposure was to people who were failing or struggling at it."
Dodson says his perspective stifled his own aspirations of becoming a songwriter for a long time. By the time he enrolled in college he had decided to pursue a degree in psychology. The lone music class he took only reaffirmed his doubts.
"It was a commercial class taught by a realtor who wrote jingles," Dodson says. "Even he didn't know how to become a songwriter; he just took us to his studio and showed us some things about writing jingles. It discouraged me even more because I felt a kind of impenetrable wall — it didn't seem like anybody knew how to make it. So I really just put it away and didn't write at all through college."
Dodson later got a part-time job as a youth minister for a church while going to school full time, and along the way got married and started a family. He says it wasn't until about six or seven years after he finished college that he picked up the guitar again and started playing and writing for fun. Around the same time he found himself reconsidering his job and career path.
"At that point I had three kids and had to be gone a lot at night doing activities with other people's kids for my job, and I decided I didn't want to keep doing that," he says. "So I quit, and my wife went back to work for a while until I could figure out what I wanted to do. It was during that period that I met Gordon."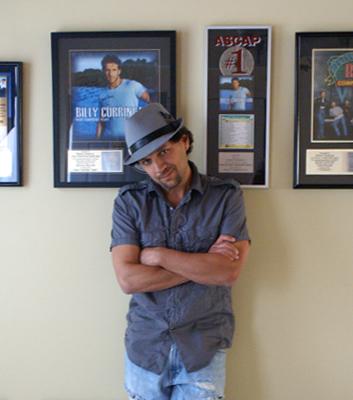 A Much-Needed Mentor
ordon Payne was a songwriter and singer-guitarist who had played with JJ Cale and Don White, Tanya Tucker, Waylon Jennings, and Buddy Holly's band, The Crickets (from 1985-1994).
"My dad would build computers for people, and Gordon became his client, so I ran into him several times," he says. "I thought it was interesting that he was in The Crickets, so I'd pick his brain about Buddy Holly and the history of their band. Eventually I got up the nerve to tell him I'd written a song that I thought was pretty cool, so he asked me to play it for him. He said, 'It's not very commercial, but I love the idea,' and he asked if he could help me rewrite it, so he did that. Then he took me to a studio and he demoed it. I was blown away by the fact that the musicians could listen to our work tape one time and play the song. I was hooked. After that I thought, Gordon took me seriously enough that I think I've got some ability."
Around the same time, Dodson read the bestselling career guidance book "What Color is Your Parachute?" which encourages people to discover what they love to do and then find a way to turn it into a career.
"After meeting Gordon I decided that making a living writing songs would be number one on my list," he says. "Fortunately, I was able to go all in — we were home-schooling our kids and my wife was working, and I was able to write quite a bit." Still, Dodson struggled as he tried to refine his songwriting chops on his own. Money was also tight, so he tried to find some part-time work to help make ends meet along the way, but his homeschooling schedule and commitment to writing made it difficult to find much. At one point he got a tempting offer for a full-time job.
"There was a guy who I think felt sorry for me, so he offered me a job writing instruction manuals for small appliances like toasters," Dodson shares. "It was more money than I'd ever made, it had benefits, and I probably could've stayed there forever. I felt like I had to decide whether I wanted to take the safe thing or actually be a songwriter. I turned that job down. A lot of people thought I was crazy, but it was a huge motivator."
To punctuate his renewed commitment to songwriting, he went home, picked an open spot on a wall, and hammered a nail into it. He'd decided he would hang his first gold record there.
Learning to Co-Write
Gordon Payne, who was writing at the time for Reba McEntire's publishing company, did Dodson another favor and put him in touch with a few other aspiring songwriters who were a little further along in their development. Dodson hit it off creatively with one of them, Terry Vonderheide, who soon scored a writing deal with successful songwriter and music publisher Kim Williams. Williams had penned hits for Garth Brooks, among others, and had liked the results of the co-writing work Vonderheide and Dodson had done together, so he asked to meet Dodson, and the two got to know each other. Eventually Dodson was also offered a publishing deal.
Dodson signed a five-year deal that paid him $866 a month. While the money wasn't much, he says the environment helped him hone his craft, especially co-writing with other people.
"Co-writing helped me realize the songs I'd written by myself were too personal," he says. "I had a song called 'She Stopped Living the Day He Died,' which I wrote about my grandmother because when my grandfather died, she'd been totally dependent on him. When I played it for my family they cried and thought it was amazing, and I would play it out and people would cry. When I played it for Kim, he said, 'That's the most depressing thing. That's not at all my experience with my grandmother. I think it's too personal.' Co-writing helped me learn how to take my experience and make it universal so other people could relate to it even if they hadn't gone through that exact thing."
Dodson also learned a lot about perseverance by working with Williams.
"He had been an electrical engineer, and something like 80 percent of his body had been burned in a horrible accident at a plant where he worked," Dodson says. "When I started writing for him he'd had huge Garth Brooks hits and been writer of the year at ASCAP, and he would still come in limping and write two or three times a day. So the work ethic in our office was, you show up and you just bust it until you've got nothing left, and then you go home. I learned a lot about work ethic and quantity of output from him."
Despite Dodson's efforts, after three years none of his songs had turned into cuts, and he feared he was about to lose his writing deal. A conversation with Williams brought a revelation that would prove to be a pivotal moment in his songwriting career.
"I had written with guys who went home and made their own demos, had their own Pro Tools rigs and programmed drums and stuff like that, so I went out and bought all this equipment," he recalls. "I was trying to learn how to do all that, but I'm not a great guitar player — I can play well enough to write, but I can't play licks and lead parts. And as I was talking to Kim I realized that I just needed to focus on what I do really well and quit trying to learn how to do everything. So I told him, 'I think I'm really strong with ideas and lyrics,' and he said, 'Let's find you some people who play guitar really well.' He did, and I started writing with them, and then all of a sudden I started getting songs on hold, then getting cuts, and then it just really clicked for me that if I could maximize what I do well I could make something happen. That has been the key to the success I've had. Every single I've ever had has been written with one of those guys who plays guitar really well and is a good melody person."
After six years of walking past a bare nail in his wall, Dodson earned his first gold record with a writing credit on Lonestar's third record, Lonely Grill, which eventually went quadruple platinum. In the fourth year of his writing deal he scored a co-writing hit with the Rascal Flatts single "While You Loved Me," which went to No. 7 on the country charts.
When Kim Williams decided to close his publishing business, Dodson got a deal with Clint Black's company, Blacktop Music Group, where he landed his first No. 1 single with Billy Currington's "Must Be Doin' Something Right." It was nine years after he had first quit his job to focus on writing. He's had five more No. 1 hits since, including Currington's "Let Me Down Easy" and Kenny Chesney's "Everybody Wants to Go to Heaven," and had songs recorded by the likes of Carrie Underwood, Leon Russell, Joe Cocker, the Oak Ridge Boys, and even pop-rock act Plain White Tees.
Dodson is both humble and proud as he reflects on his accomplishments, especially in light of his slow, circuitous path."I've had a lot of help along the way, but I've made a lot of mistakes," he says. "I've kind of stumbled along until I found what the right path was."
Mentoring Others
Now that he has an established career as a songwriter, Dodson enjoys using his experiences to mentor other aspiring songwriters. In 2013, he and successful fellow songwriter Clay Mills launched on online resource network called Songtown USA.
"Clay and I thought it would be a cool way to give back and help people avoid some of the mistakes we'd made," he says. "Both of us had been on the board at NSAI [Nashville Songwriters Association International], and we'd seen some of the great things they were doing for songwriters, but we kept running into people who were being ripped off. One of the things we discovered when we looked at other websites was that most of them were started by people who had come to Nashville and failed. Our thought was, if you couldn't do it, how can you tell me how to do it? One day Clay said, 'Do you think anybody would be interested if we started a website and actually told the truth about songwriting?' We thought it would be fun to see how people respond to being told that this is really hard, and lots of you aren't going to make it, but if you really want to, here's what you need to do. So we just started doing that. People would come in for mentoring sessions, and we'd be brutally honest with them."
A Songtown USA Facebook page (Facebook.com/songtownusa) was created in January of 2013 and a soon-to-be completed website (Songtown.com) will present educational programs for songwriters along with other collaborative resources that will help people find others to complement their skill sets. Dodson says that on a good week, they reach about 35,000 people.
"We both love Nashville, and we'd hate for people to think that this is just a place that will scam you," he adds. "We wanted to educate people against that and try