12-String
A Heritage of Easy-Playing 12-Strings
In the early days of Taylor Guitars, Bob Taylor's acoustic 12-strings proved to be game changers. Until then, playing a 12-string was a physical chore, between their chunky necks, extra string tension, and high action. Most had to be tuned down just to make them playable. But Taylor's 12-strings featured slim necks and low action, allowing them to be played comfortably at concert pitch. As word spread that Taylor made the most playable 12-strings around, many artists added one to their acoustic arsenal.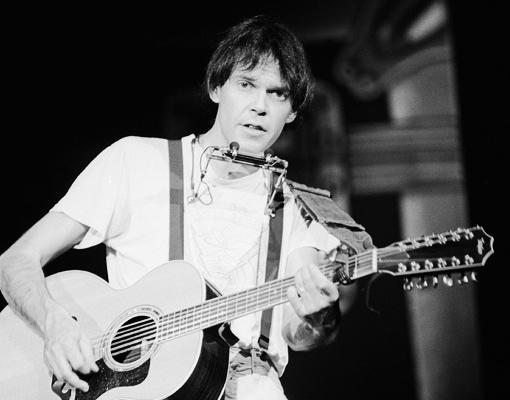 Neil Young in concert with a Taylor 855 in 1978
Making 12-Strings More Broadly Accessible
Fast-forward to the arrival of Andy Powers, Bob Taylor's handpicked guitar design successor, who has inherited a rich 12-string heritage and added to it, much like he did with the revoicing of Taylor's flagship rosewood 800 Series. The goal: to broaden the appeal of the 12-string playing experience to suit a diverse mix of players and musical applications. The result is an inspiring suite of new 12-string models, covering all five Taylor body styles and spanning nearly the entire line. "Each 12-string instrument can play a uniquely different role for each player," Andy says. "That's why we've pursued different designs. I think this collection gives players a lot of different and inviting options."
Video: Andy talks about Taylor's new 12-strings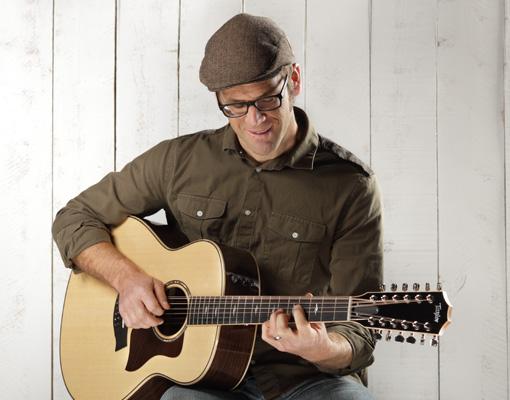 Taylor 12-Strings by Shape
Grand Concert 12-Fret
A small-body 12-string offers a comfortable option for players who find a bigger body unwieldy. Standout traits include the slinky handfeel and responsiveness, along with a surprising amazing amount of tonal power, depth and warmth for a small body. The sonic focus and detail are ideal for recording or performance because the voice will fit cleanly into a mix.
Video: Andy Powers talks about small-body 12 strings
Browse Grand Concert 12-string models »
Grand Orchestra
Our largest and deepest body style delivers a massively rich and powerful 12-string sound. If you're a strummer who's craving a lush, "wall-of-sound" style voice that will fill a room with potent octave shimmer and loads of ringing sustain, a Grand Orchestra 12-string will not disappoint. Options include the rosewood/spruce 858e and the ovangkol/spruce 458e.
Video: Andy Powers talks about the 858e
Browse Grand Orchestra 12-string models »
Dreadnought
The slightly broader waist of the Dreadnought shape helps bring out the lower midrange frequencies. On a 12-string, it generates a thick, husky midrange power that complements the crispness and shimmer of the octave strings. The wood pairing of blackwood and mahogany on the 360e yields a smooth response that promises to deliver a bold and balanced sound.
Video: Andy Powers talks about the 360e
Browse Dreadnought 12-string models »
Grand Auditorium
The comfortable body size and musical versatility of the Grand Auditorium form the foundation of a great utility 12-string guitar. Our current offering, the 254ce-DLX, features layered rosewood paired with solid spruce, and makes a great option for someone looking to add some 12-string flavor to their musical toolbox for songwriting or adding sonic texture into recording or performance.
Video: Hear the 254ce-DLX in action
Browse Grand Auditorium 12-string models »
Grand Symphony
The workhorse shape of our 12-string family features the broadest model selection. The GS became our standard body for 12-strings when the Jumbo was reborn as the Grand Orchestra. It's slightly smaller than a traditional Jumbo, but the wider waist yields a rich low end, with an even balance from low to high. Players will love the blend of power and articulation.
Video: Hear the 656ce in action
Browse Grand Symphony 12-string models »
Featured 12-String Guitars